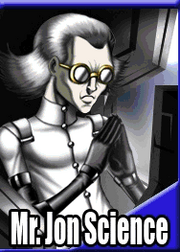 Mr. Jon Science, Mad Scientist

Spurned as a Ph.D. candidate by "lesser minds' who couldn't possibly comprehend his brilliance, Mr. Jon Science has the ultimate chip on his shoulder. He has become crazed in his quest to prove his genius.


Biography
Edit
Powers and skills
Edit
Appearances
Edit
External links
Edit
Ad blocker interference detected!
Wikia is a free-to-use site that makes money from advertising. We have a modified experience for viewers using ad blockers

Wikia is not accessible if you've made further modifications. Remove the custom ad blocker rule(s) and the page will load as expected.